This Memorial Day I will be honoring our military in a way I never have before. At the CrossFit Box that I work out at, we will be working out to MURPH. MURPH is a CrossFit Hero workout and was so named after Lt Michael Murphy.
( copied from the CrossFit website )
In memory of Navy Lieutenant Michael Murphy, 29, of Patchogue, N.Y., who was killed in Afghanistan June 28th, 2005. This workout was one of Mike's favorites and he'd named it 'Body Armor.' From here on it will be referred to as 'Murph' in honor of the focused warrior and great American who wanted nothing more in life than to serve this great country and the beautiful people who make it what it is.
Murph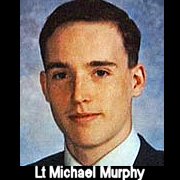 For time
1 mile Run
100 Pull-ups
200 Push-ups
300 Squats
1 mile Run
Scale the pull-ups, push-ups, and squats as needed. Start and finish with a mile run.
MURPH is one of the many ( too many) workouts that CrossFit has named to honor those that gave all. Across the US this weekend I suspect that the more then 20,000 CrossFit Gyms will be working out to one of these Hero Wods ( workout of the day). These workouts are designed to be hard and uncomfortable in the memory of these fallen heroes.
But like every CrossFit workout this too can be scaled. I will partner up with 2 others and we will split the reps. It will probably go something like this.
Partner 1 runs 500 meters, then partner 2 will run 500 meters, then partner 3 runs 600 meters. Then partner 1 does 33 pull ups, then partner 2 does the same and again partner 3 will do 34. The same goes for the push ups, squats and the last 1 mile. Now I can not do even one strict pull up but again CrossFit has scales to accommodate even the very beginner.
Check out CrossFit.com for more information about the Hero WODs.
Wishing everyone a save Holiday weekend.